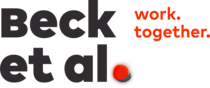 Beck et al. Services
Beck et al. Services is a consulting company for IT projects and services, working internationally and being part of the Skaylink group with focus on two main areas: digital transformation and cloud solutions.
In Romania, the office has been opened since 2005, and currently has a team of about 40 employees, which is growing due to collaborative projects in which it is involved. The company's vision is to enable their customers to use digital technologies to perform their tasks faster and more effective. Through team's technical expertise and IT services, the company implements the digitization of processes and documents using specific platforms, with thousands of users at the moment, such as JobRouter®.